(illustration: Victoria Police abusing disabled pensioner in hidden video)
Fact: Australian governments, federal and state are human rights abusers.
The only problem is that one has to prove this.
In the example of the Police State of Victoria, pretty much every police officer coming through the academy nowadays is aware of the abuse of 21 year old Corinna Horvath by Victoria Police in 1996 where she was beat within an inch of her not remembering her name, yet a whopping 18 years later in 2014 some sort of 'remedy' was given in Horvath v Australia (HRC, 2014).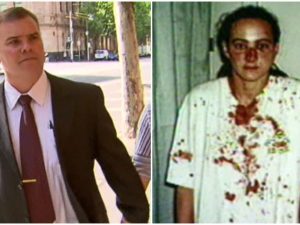 Would the authorities wait 18 years for a remedy from your (alleged) speeding fine?
The answer is no, where your motor vehicle would be taken from your possession, without a lawfully enacted 'instrument' i.e. warrant in place, the case of Victoria.
Over the past nearly 3 years Victorian premier Mr. Daniel Michael Andrews, threw Human Rights out the window, where he made this quite clear in his press conferences, which was reiterated by the mainstream media.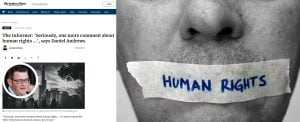 The lockup of people in public housing in Victoria made worldwide headlines for all the wrong reasons, that being the Victorian Government's abuse of disadvantage and vulnerable persons and the denial of their human rights, e.g. to medicines and food.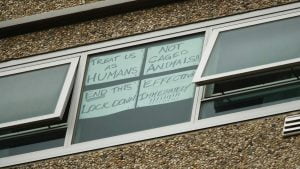 Newsflash: Human Rights apply under all circumstances, even under a so called 'emergency' situation.
Note: Australia is a signatory to the United Nations, period.
Within this there is an instrument called the Convention against Torture and Other Cruel, Inhumane or Degrading Treatment or Punishment enacted in 1984.
The people in the Victorian government are responsible for this breach.
When the UN inspectors came to the colony known as Australia to see some sites where people have had their human rights being abused, they were denied entry to the premises, by government officials, which is a Commonwealth criminal offence.
So what did those inspectors do? They 'just' packed up and left.
Will there be any repercussions? Probably not!
Please note: Victoria Police want the public or rather world to forget their criminal actions: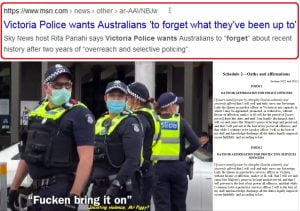 In any event see a summary of information presented at a public meeting at Flagstaff Gardens in Melbourne in 2021: