Premier's office forced to explain purpose of Insights Victoria.
Daniel Andrews' office will be forced to release details on the purpose of a Big Brother-style data agency set up to monitor the activities of everyday Victorians.
The office of Premier Daniel Andrews will be forced to release documents detailing the purpose of the contentious Insights Victoria data program.
Shadow Treasurer David Davis successfully passed a motion this week that requires the government to release documents about what the program collects, when it has been accessed and what suburbs political staff have requested reports on.
They will also be required to hand over all correspondence from the Premier's private office regarding Insights Victoria and an organisational chart into how the system is run.
They have three weeks to hand over the documents.
The Herald Sun revealed last week the data agency had been set up as the "single source of truth" for public servants, monitoring a trove of data including health outcomes and education levels which can be broken down to local geographical areas.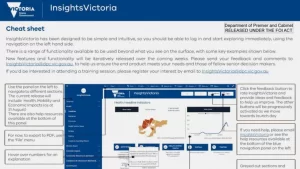 The government says information is not collected on individuals and is de-identified, with some anonymous data bought from the private sector but no longer being purchased.
But concerns have been raised the services could later be misused for political purposes.
"It is clearly in the public interest for us to understand what the Premier and his office are doing here and what uses they are putting this data to," Mr Davis said.
"Data of this type can be used for benevolent purposes but it can also be used for malevolent purposes.
"The fact is that the government has form on this: misusing taxpayers money for party political campaigning.
"What protections are there that this data is not being used by the Australian Labor Party for campaigning purposes?"
The state government insists the data is secure and used in line with all privacy and data protection laws.
"All governments use data to inform policy decisions and deliver services," a spokesman said.