If you're an outsider reading Australia's mainstream media, one would be of the erroneous belief that Australia has a high standard with regards to many actions.
This could not be further from the truth.
Since the very beginning of testing, the authorities have been deceiving Australians that have taken the RT-PCR test.
To make matters worse the patient or rather the 'customer' obtains a SMS with a text result of the test being either positive or negative, but not the actual report.
Here is an actual test report where the identifiers have been cut from the entire document, where only the portion the the actual test is shown: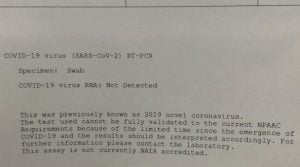 As stated in the report:
1). "The test used cannot be fully validated to the NPAAC Requirements…"
2). The assay is not currently NATA accredited.
What is the NPAAC?
It's the National Pathology Accreditation Advisory Council.
So, what does it have to say about such a test?
See screen capture of page 4: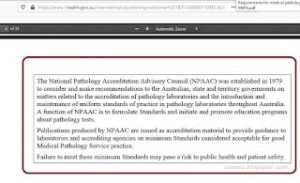 What is the NATA?
It's the National Association of Testing Authorities, Australia.
See what they have to say about accreditation at:
The Australian people have been conned by the authorities into lock ups, restrictions and loss of business based on an inaccurate and 'illegitimate' test.
"Australia, the lucky country"… because it sure isn't a smart one.
P.S. Technically, its still a colony.